Hey Guys! Welcome to my blog!
Every one has dreams. Some big, some small. Some are living their dream this very moment and some are just getting started. Me? I'm not living the dream just yet. Hopefully I will soon.
If you were to ask someone what their dream was, most of the time they would say:
"My dream is to travel the world!"
"My dream is to earn lots of money!"
"My dream is to meet the one!"
It's not bad to have a common dream. I have a lot of dreams to be fair. Two of them I've already mentioned. But an important dream for me would be to travel the world, simply because I've spent most of my life in one place. I want to experience. I want to have memories I can look back on and say "I did that" instead of " I wish I did that".
I want to meet new people, I want to learn about cultures, I want to learn different languages. I want to do so much in so little time. So why not start now?
In August, I will be going to Brittany, France. And there, I will start my journey.  A while back I bought a map that you could scratch away the surface to reveal a colorful underside!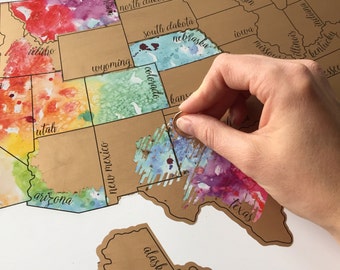 It's a good way to keep up-to-date with all the places you have been to and plan to go!
The following countries I plan to visit first of all are:
Germany
Spain
Italy
Ireland
Poland
Norway
Denmark
Sweden
Switzerland
I plan to start with the countries closer to home and then over time, begin to spread out to other places XD
What about you? Do you have a dream?
I hope you guys enjoyed this post as much as I enjoyed writing it! I'll be back to post again soon! In the mean time, if you enjoyed this post, give it a like and let me know in the comments below!
Love you lovelies!